UV Exposure Units
from just £124.99+VAT!!!!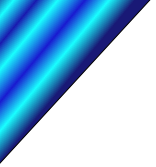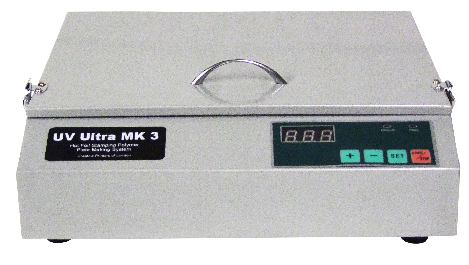 Photopolymer Plates
(Polymer Plates)
We can supply photopolymer plates for the following applications:-
Hot Foil Printing (With or without metal backing)
Pad Printing
Metal Clay Jewellery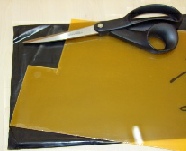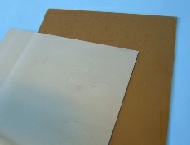 QuickTrim Polymer Plate

The image on the right hand is an example of our new QuickTrim Polymer Plate which can be cut using a sharp pair of scissors.
A new type of Hot Foil Polymer Plate that you can cut with a scissors! This new Plate can also withstand temperatures of upto 160 degrees Centigrade.

Sold as an A4 Sheet. Price: £16.99+VAT
Metal Backed Polymer Plate
This is an example of a metal backed hot foil polymer plate which is designed to work at upto 180 degrees centigrade.


We can cut this plate down to size for you an the cost is 50p+VAT per cut. Cuts will be approximate.


We also supply metal cutters, please click here for further details
Sold as an A4 Sheet. Price: £23.00+VAT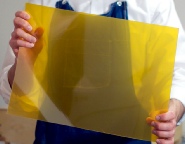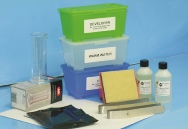 Plate/Negative Making Consumables
In order to make a good quality printing plate, you will require good quality artwork. We feel this is best achieved by making a Negative using our artwork sheets, negative film as well as fixer and developer solution. This will ensure that UV light only passes through the areas where it is supposed to.
If your artwork is not dense black, unfortunately, UV light may pass through your text or design resulting in a poor quality plate.

These are the main items which you require to make good quality artwork or negative film:-
20 x A4 Artwork Sheets for Laser Printers £12.00+VAT
1 Litre of Developer £11.60+VAT (To dilute with water)
1 Litre of Fixer £11.60+VAT (To dilute with water)
20 x A4 Negative Film £27.00+VAT (Cut and use what you require. Must only be opened in subdued light and place back in the black plastic bag for longevity)
Washout Brush £7.99+VAT
3 x Tongs £14.00+VAT
3 x Basic plastic tubs for washing your Negative £5.00+VAT
Measuring Cylinder £5.00+VAT









The look, colour and appearance of products shown on this website may change subject to availability. Our products are sold strictly on this understanding.

Copyright 2013 Creative Printers of London Tel: 01708-731294 Contact us